Raider.IO is very excited to now offer a new way to recruit players for your guild for raiding, Mythic+ (coming soon!), PvP or just social members to make your adventures in Azeroth and beyond a more social experience! Below is a comprehensive guide on how to recruit new members to your guild in the most efficient way.
Firstly:
Head to Raider.IO and click on the new 'Recruitment' tab in the header
Pick Guild and Decide what activity you are looking for new members to take part in
Pick which guild you are recruiting for, if you are an officer for multiple guilds make sure you the designate correct one. (Note: You MUST be an officer or an assigned recruiter in the guild in order to go further)
Click Customize Profile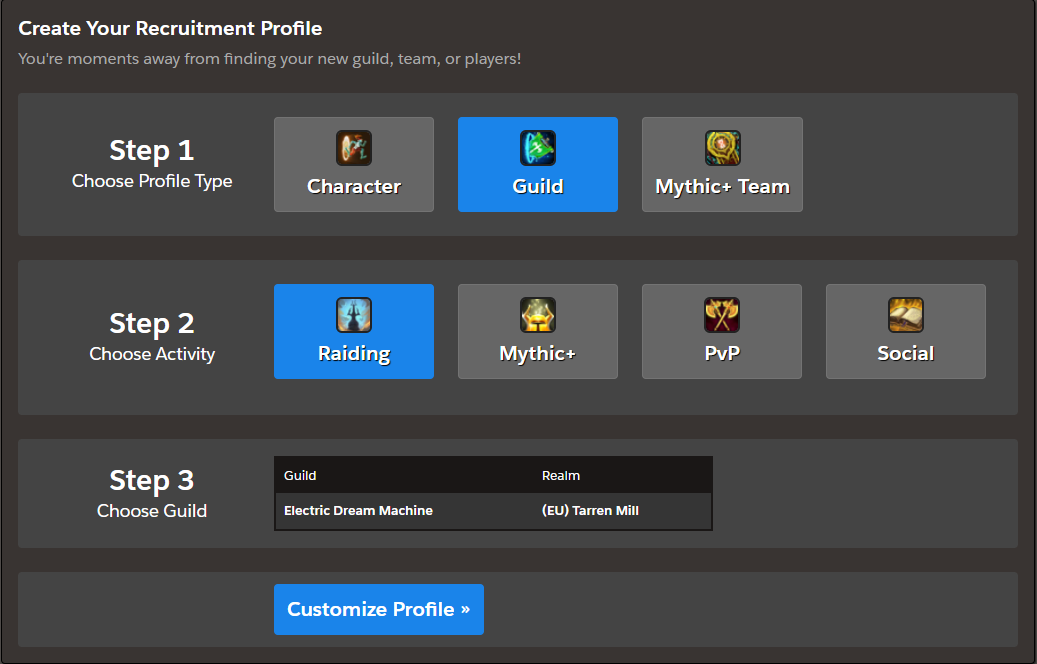 Now it's time to determine the type of player(s) you are looking for - Firstly you have the option to pick their role if you are not looking for a specific class/spec, if you are looking for a specific spec or class you can ignore this option and move to the next step
If you are looking for a very specific class or spec the drop down menu to the right will allow you to pick that and then set the priority to high, normal or low depending on how much you need the aforementioned spec!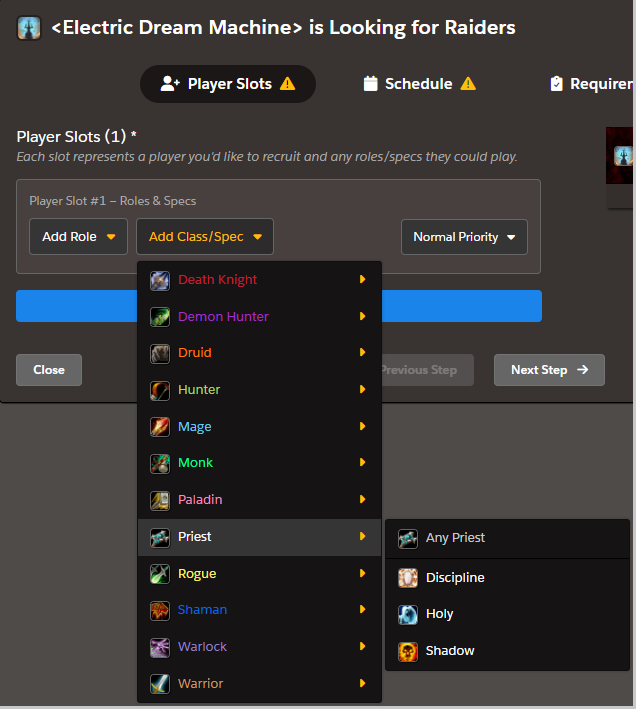 For every character you wish to recruit you need to pick Add Another Player Slot and repeat the process above detailing what role/class/spec you are looking to recruit. Adding multiple classes without clicking this will only add more requirements for the original player you are looking for.
Once you are satisfied you have added the specs/classes you are looking to recruit, click Next Step to move on to the schedule section of recruitment.
Firstly you have to pick the Time Commitment expected of the player(s) you are recruiting, this is broken down to how many days per week and how many hours per day they are expected to be active in the activity of choice (raiding, M+, PvP or social activities). This can also be set as a range i.e 3-5 days, 3-5 hours per day (see image below).
Next you are able to state your official schedule, first pick your time zone (this will automatically be shown in any potential members in their own time zones so no need to adjust to server time!) then proceed to add any days that players will be required to play. When you are happy with the scheduling click Next Step to move on to requirements for potential players.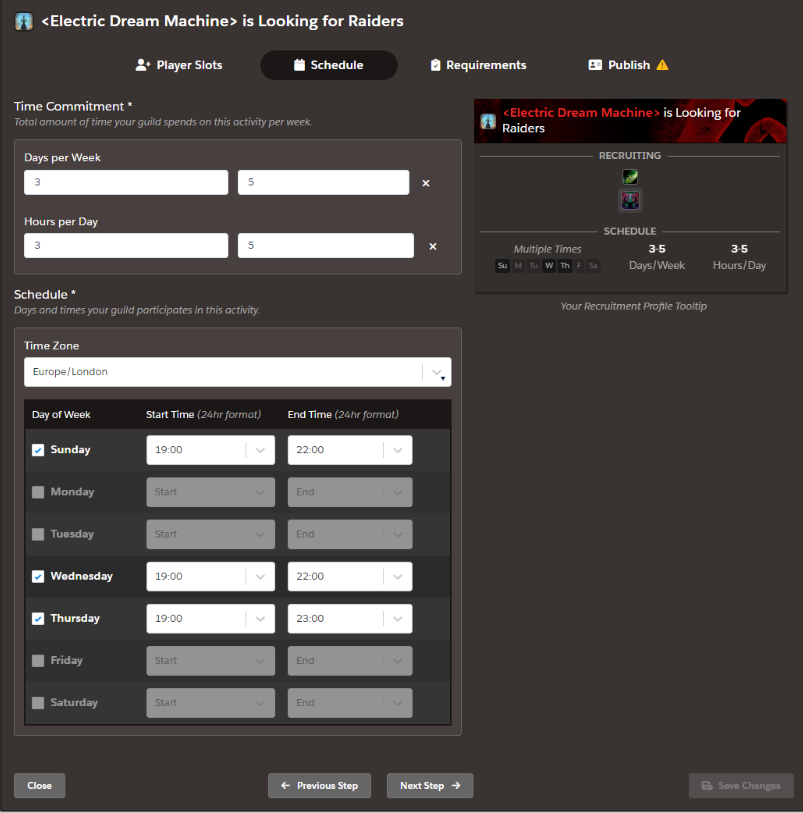 Following this you are able to pick requirements for any players that you are interested in recruiting in order to ensure they have achievements/progress that you are searching for. You are able to set M+ score requirements, raid achievement requirements (Cutting Edge or Ahead of the Curve) for current and previous tiers of the current expansion as well as a progress range that will allow players that have killed a certain number of bosses without fully clearing the raid to apply to your guild.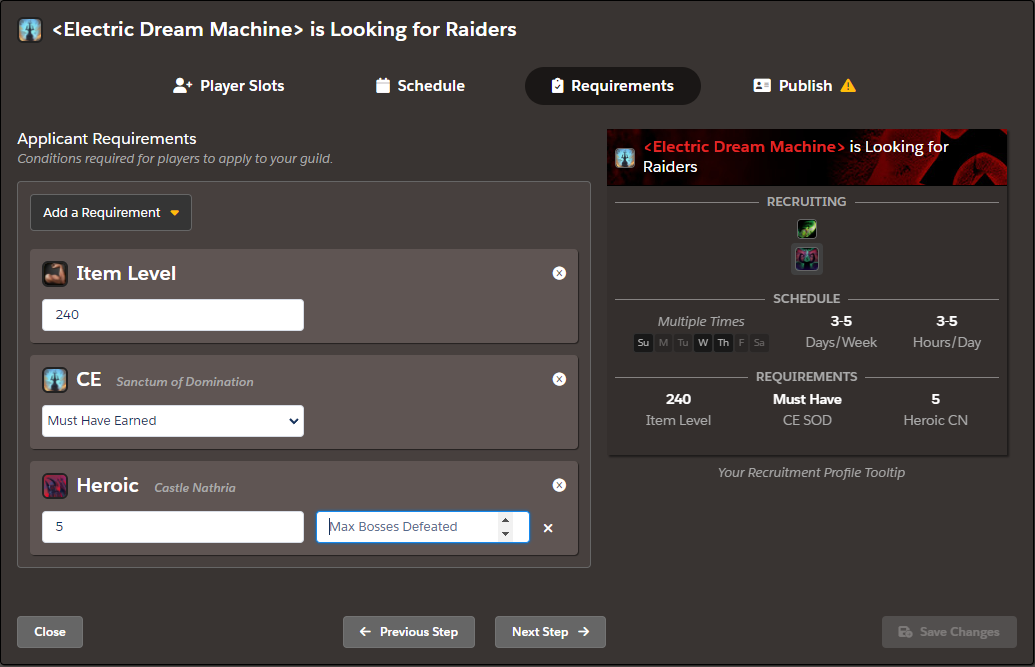 If you are convinced that you have set all your requirements correctly the final tab is Publishing. This tab has settings that control how and where your profile will show as well as some tags that give potential applicants a feel for what your guild is all about. This tab will firstly automatically add one language that matches your Raider.IO profile; this can be edited if it's incorrect to have up to 3 languages.
Next you can add some tags to give an initial impression of your guild's attitude towards the game and some brief expectations of any applicants. These tags are non-mandatory and we are looking for suggestions in the Raider.IO discord to ensure you have the best options to represent your guild!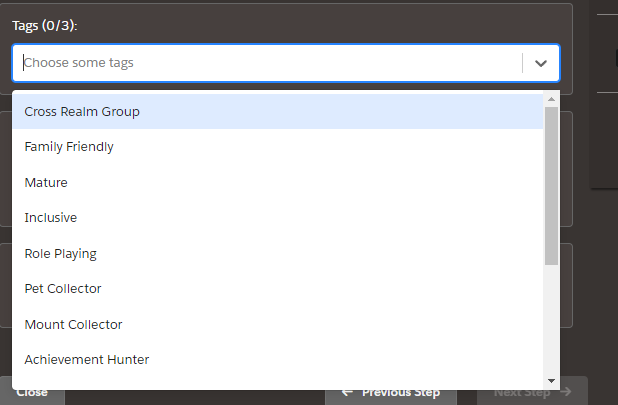 The penultimate choice for your profile is a profile caption - think of this as a title for your guild, a small caption to give an initial impression of what you are looking for/why you are recruiting.

The final step is choosing your privacy settings, your guild does not immediately need to be searchable if you would like to prepare a profile for a future date you are able to set it to private making it only visible to officers. If you are happy for applicants to search and apply to your guild, you can set your guild to public and save and activate. Congratulations! Your guild is now ready for applications.